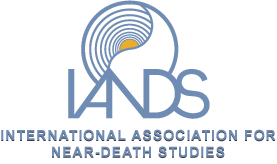 You can also become a member of IANDS and/or buy IANDS journal, The Journal of Near-Death Studies from these links.
Click the links below to see the page with the video, audio or article.
Near-Death Experiences: What Happens When We Die?
This 7 minute video aired on a Fox News Atlanta
prime time report
featuring two near-death experiencers plus Dr. Raymond Moody and a neurologist, Dr. Wendy Wright. Pam Wedding, an experiencer from a drowning while white water rafting including a miraculous unexplained rescue and Barbara Harris Whitfield, an experiencer during complications after spinal surgery, portray the conviction of those who have been in an altered state of consciousness often associated with near-death experiences.
Dr Moody asserts a supportive stance based on the thousands of documented cases he has reviewed while a skeptic position is adopted by Dr. Wright, a position that ignores the veridical evidence from NDE studies in presenting a materialist explanation of NDEs as a process of the dying brain.
-----------------------------------------------------------------
This 58 minute, commercial-free video can be seen via the following web page...
Life After Death
. The program's chief narrator is retired physician and noted author, Dr. T. Lee Baumann. Dr. Baumann describes how his interest in theoretical physics and subsequent research of near-death experiences led him to exchange the perspective of a skeptic and doubter to become convinced of the phenomenon's validity and the basis for it using a scientific approach.
The production also includes commentary by therapist and author, Barbara Harris Whitfield plus a nurse from Alabama, Linda Kuhn. Ms. Whitfield shares from her extensive background researching and counseling individuals reporting NDEs. Both women describe their near-death experiences and the changes in their lives following the transformative effects of the experiences.
----------------------------------------------------------------------
Tuesday, Mar 16 -- featuring
"When NDErs yearn to go back -- what are they really grieving for" with Barbara Harris Whitfield
Note: To be added to the email distribution list announcing these conference calls with telephone number and access code, send an email to
groups@iands.org
. To access the mp3 file recordings of the guest speaker portion of the conference calls, IANDS members may click on this link...
MP3 Recordings
.
-----------------------------------------------------------------------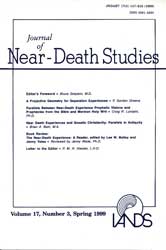 About IANDS:
IANDS' purpose is to promote responsible, multi-disciplinary exploration of near-death and similar experiences, their effects on people's lives, and their implications for beliefs about life, death, and human purpose. Where scholarship does not indicate a reasonably clear position on the origin or interpretation of these experiences, we remain impartial and open to the presentation of varying points of view; however, while all personal beliefs will be respected, IANDS is under no obligation to consider them all equally supportable. Whatever the viewpoint, IANDS never supports proselytizing.